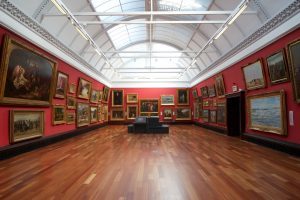 Culture is a gift, handed down from generation to generation. Sometimes it is passed along through tales and legends, sometimes it is books and poems, sometimes artwork, and sometimes it is unearthed many years later and preserved as a priceless artifact. In any case, if you are looking for a little culture you can find plenty at one of these three fine San Rafael museums.
Art Works Downtown
Whether you are looking for a new piece to hang over the mantel or you simply wish to enjoy seeing what new and exciting artists are creating, the Art Works Downtown is the place to go. Established as a nonprofit art center designed to connect artists with the community, the Art Works Downtown houses studios, classrooms, apartments, and galleries that bring the new creations of local artists to you.
Sculptures, fine jewelry, and paintings in all styles are available for viewing and purchase now through December 22 at the Small Works Exhibition in the 1337 Gallery.
AWD members are displaying their creative masterpieces now through December 22 in the Underground Gallery. Here you can see and purchase some of the finest local paintings, sculptures, fiber works, and photography.
Now through December 8 the AWD's featured artist is Lecita Fernandez. You can check out her work at the AWD's Artist Wall exhibit. Her paintings are watercolors and acrylic. Highlighted by a whimsical flair, her art is always bright and colorful.
The Museum of International Propaganda
Anyone with a fondness for history and world politics will enjoy a visit to the Museum of International Propaganda. The museum offers a fascinating look back on the viewpoints of dictators and regimes over the last 125 years. The propaganda produced provides a glimpse into how those leaders and countries perceived other nations, as well as offering a sometimes startling look at how they wished to be perceived, both at home and around the globe.
From North Korea to Cuba, Nazi Germany to the Soviet Union, and so many more, the artwork assembled tells the story of these dictators and government loyalists and the goals they had in mind when creating these pieces.
Located on 5th Avenue, the museum is open from noon to 3:00 p.m. Wednesday through Saturday. Every Wednesday they host a movie night, and they often schedule guest speakers and even offer open mike debates for the serious propaganda enthusiast.
Marin History Museum
Looking to find out about your Marin County roots? Check out the Marin History Museum, that for over 80 years has been preserving artifacts that depict life in Marin County going all the way back to the Miwok Indians.
The museum is currently showing its History of Marin in 101 Objects. This is an amazing collection of items like public notices, newspaper articles, period photographs, rudimentary tools, and artwork from local artists. Come see antique furniture and tea sets, old-fashioned wine keys and backpacks, period clothing and typewriters. The list goes on and on.
So get out and explore the culture all around you. These exciting exhibits are sure to enrich your life.
Image via Flickr by itmpa licensed under CC BY 2.0